The No-Bite
V

™
1. Oral Laryngopharyngeal Suctioning
SUCTION 3 INCHES FURTHER THAN YANKAUER CAN! - Insert suction catheter just a few inches past tip of No-Bite V™, the technique of depressing the tongue DOES NOT matter because you are suctioning Laryngopharyngeal area, before bifurcation that separates the esophagus and trachea.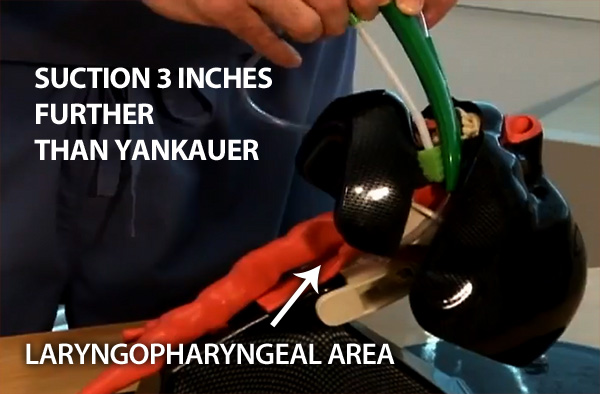 Non-Intubated Patients - Subglottic Suctioning of Laryngopharyngeal area is used for patients with ineffective cough that may cough up secretions but cannot spit them out. Subglottic Suctioning of Laryngopharyngeal area may also stimulate patient to cough up more secretions
If this method does not produce good results of suctioning secretions, your patient may be too weak or lethargic to expectorate secretions. This patient may be headed towards an intubation. In this case Oral Tracheal Suctioning with The No-Bite V may be needed.
2. Oral Tracheal Suctioning with The No-Bite
V

™

Take out pillow and tilt patient's head back if allowed, Pre-Load Suction Catheter into device and hold catheter with pointer finger so catheter doesn't fall out from weight of the tubing, push down on patients chin with your opposite hand to prevent patient from biting down on No-Bite V while you insert the device, depress the tongue and insert the suction catheter into the trachea. Only be in mouth=5 Seconds Max and If patient presents with Hunchback or Slouching Posture, place a rolled up towel behind back, across the shoulder blades.

(This is an advanced technique, where all staff are required to successfully perform a return demonstration of Oral Tracheal Suctioning on Dummy Head)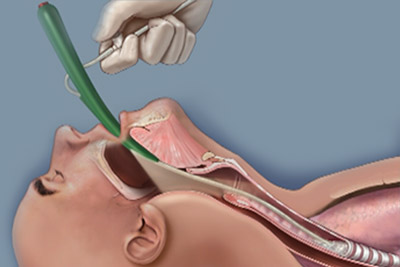 3. Oral Care on Patients Who Bite Down
Insert No-Bite

V

™ first and allow patient to bite down.
(It is safe to bite on----Bite Proof---, same plastic as Yankauer)
Then suction with oral cleaning and suctioning devices around No-Bite

V

™
The Light allows for Oral Assessment on the biting patients who normally don't open their mouth wide enough for you to see inside.

No-Bite
V

™ Specifications
Comes Sterile.
Single Patient Use.
Can use for 3 days with cleaning protocol.
Suction catheter introducer fits size 18 french suction catheter and smaller.
Allows you to Oral Pharyngeal/Oral Tracheal suction your patient where the nasotracheal suctioning approach is contraindicated.
Eliminates coiling of tracheal suction catheters
Prevents patients from damaging or breaking your oral hygiene and suction catheters.
Allows you to perform HAP/VAP protocols safely on uncooperative/biting patients.
Allows for well lit oral assessment on your uncooperative/biting patients.
Patient Care Areas
Medical ICU's
Surgical ICU's
Neuro-Surgical ICU's
Stroke Units
Cardiac ICU's
Cardio-Thoracic Surgical ICU's
Burn ICU's
Cancer Units
Hospice Centers
Home Hospice
Head & Neck Injury Units
Patient Population
ALS Amyotrophic Lateral Sclerosis - Lou Gehrig's Disease
CF Cystic Fibrosis
MS Multiple Sclerosis
MD Muscular Dystrophy
Parkinson's Disease
CVA Stroke Patients
Spinal Cord Injury
Patients with Severe Weakness
Hospice Patients
Palliative Care Patients